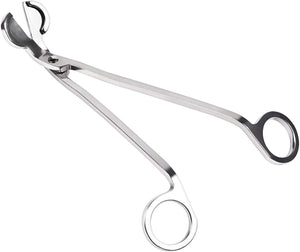 Boinkle Candles
Stainless Steel Wick Trimmer
Regular price
$7.00
$0.00
Unit price
per
Tax included.
100% brand new and high quality.
Made of stainless steel for long life and durability
Avoid soot on your walls and lengthen the life of your candle
Length: approx. 17.8cm/7 inches
How to use your wick trimmer:
Make sure to trim your wick before each lighting or once your candle has cooled to room temperature; never attempt to trim a burning candle.
Place the trimmer's long handle against the inside of the jar's rim for guidance and bring the curved scissor blades to the wick, about 1/4" from the base and parallel with the wax.
Trim your wick and discard the snipped portion in the trash.
As a safety precaution, never leave wick trimmings (matches or other debris, for that matter) in your candle jar!
---