Fall Festival Presented by Northern Lakes Cooperative The Hayward Fall Festival is an annual tradition that celebrates the changing of the seasons with fine art & craft booths, sidewalk sales, wonderful food vendors, a brat and brew tent, kids activities, and live music in downtown Hayward. Thousands of people from all over help our area celebrate during this one-day event.
---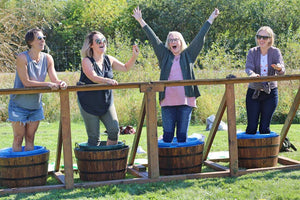 Grape Stomp FestivalDate: Saturday & Sunday, September 16-17, 2023Time: Saturday: 11:00 a.m. - 7:00 p.m., Sunday: Noon - 5:00 p.m.Price: Open to the public.          Grape Stomping $15 (includes t-shirt), first come, first             served basis the day of the festival.​          Carriage rides $5.Join us for our biggest festival of the year at our tenth annual Grape Stomp! Enjoy fantastic food, wine tasting, shopping at artisan booths, live music, wagon rides, and of course, grape stomping.Entertainment:Saturday, 12:00 p.m. - 2:00 p.m. Samantha GrimesSaturday, 3:00 p.m. - 6:00 p.m.Travis Anderson TrioSunday, 1:00 p.m. - 4:00...
---

Boinkle will be at the craft fair on Saturday September 9. Osceola Wheels & Wings is celebrating 42 years of FREE family fun! It's a great day to take in all the excitement in Osceola, WI!
---
Mother's Day Mini-MarketDate: Saturday, May 13, 2023Time: 11:00 a.m. - 4:00 p.m.Open to the public.Last minute shoppers rejoice; our mini-market has returned! It takes place just in time for you to find the perfect Mother's Day gift! Join us on Saturday, May 13 as we welcome some of our favorite vendors to the winery so you can shop the best way we know how -- with a wine glass in hand.
---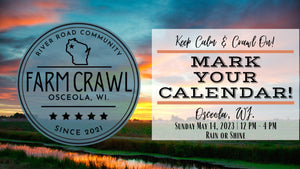 What's better than a day with your mom, family, and/or friends? How about a day of exploring all that the River Road Community (280th Street & beyond) has to offer! Did you know there is a community of businesses specializing in arts, flowers, plants, organic farming, cheese making, vegetables, hiking, meats and hosting rustic events all along and just off the River road in beautiful Osceola? In just a small 6 mile radius you can have a lot of fun! Learn where you food comes from, from grass fed meat, to what is a CSA, explore some local handmade crafts,...